The 2007 Irish Real Tennis Championship
May 26th and 27th, Bristol & Bath Tennis Club
2007 Irish Champion: Roland Budd
2007 Open Champions (Doubles): Roland Budd and Kárlis Zauers
Congratulations!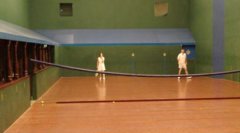 Beginning players receiving coaching
The 2007 IRTA Championship weekend was a very enjoyable and successful event, taking place over the weekend of 26th and 27th May. For this, our fifth tournament, we were warmly welcomed by Bristol and Bath Tennis Club, where our first two championships were held. The club once again proved to be an excellent venue, with great viewing facilities and a modern court. We were reminded that B&BTC provides a very good case study for how the appeal of real tennis can be broadened, growing in just a few years from an initial membership of 30 enthusiasts to a playing membership of over 200 today.
Club pros Kevin King and Julian Fox had organised an excellent programme of play for the weekend, including coaching for some of the players who had only played real tennis a small number of times before, or even, in one case, were playing for the first time in Bristol. This was very well received, and the newcomers then were able to put the lessons into practice over the course of the weekend. Jim Coyne was declared "most improved player" for the confident manner in which he took to the game. The schedule also included several slots for friendly play, which were taken full advantage of by the visitors.
The Irish Championship
This year, with interest boosted by the increase in the IRTA's playing trips over the past few months, we had nine competitors eligible for the Irish championship, and so played this tournament as a straight knockout, with no handicaps. We were very pleased to see such a strong Irish presence in the event this year, including several newcomers to the game. In one semi-final, Mark Keogh, despite having only played real tennis since February, played some very solid and consistent tennis to earn a place in the final, beating Mark Heffernan in a match watched by a large band of spectators from the dedans.
| | |
| --- | --- |
| Kárlis Zauers playing a looping service | Roland Budd preparing to receive a service |
The other semi-final was a close-fought match between defending champion Roland Budd, and relative novice Kárlis Zauers. This match saw some fantastic tennis with Kárlis taking an early lead, only for Roland to pull back and take the semi-final 9/7.
Mark Keogh and Roland Budd after the Irish Final
The final, then, was played between Mark Keogh and Roland Budd. Curiously, Mark had studied engineering at UCD, and told us how he had in fact performed fluid dynamics experiments on the Dublin tennis court, although without realising at the time what the building was! The Irish Final saw Roland keep his title as Irish Champion, and the match was much more closely-fought than its scoreline of 6/0, 6/1 suggests.
The Open Championship
To give everybody a good amount of time on court, the Open championships were run as doubles matches in four groups, with the winner of each group being decided by a ratio of games won to games lost. All matches were played with handicap, giving lots of good tennis and close matches. The players were grouped roughly by handicap, and the winners of the stronger two groups formed one pair in the final, facing a pair consisting of the winners of the higher-handicap two groups. The open final then saw Roland Budd (who scored equal with Aldona Greenwood but came out ahead in a penalty-shoot-out-style "grille challenge") and Kárlis Zauers on one side of the net, and Mark Keogh and Jacky Blackwell on the other. Despite the handicap, Roland and Kárlis won the final to become 2007 Open Champions.
IRTA Chairman Mike Bolton and BBTC Secretary Nick Ponsford
Wrapping up
After play on Saturday, a fairly large group of players and supporters went for a meal in Muset, a local restaurant, where we all had the chance to talk with old friends and new. Food and service were very good, and everybody had an enjoyable and relaxing evening. IRTA chairman Mike Bolton thanked everybody for their support, both of the weekend, and for their ongoing interest in seeing play restored to the Dublin court.
Trophies were awarded on Sunday afternoon, presented by B&BTC secretary Nick Ponsford. Nick and Mike spoke briefly, recapping the IRTA's activities and re-affirming the enthusiasm that exists within the real tennis community for adding Dublin to the list of active courts.
Thank you!
We are very grateful to B&BTC for hosting us over the weekend. Kevin and Julian's programme and marking meant the tennis ran very smoothly and all players could enjoy their time on court. Some B&BTC members very kindly provided accommodation to the visitors, and came along to support and encourage the players. Nick Ponsford was again part of the B&BTC organising team, and continues to be a strong supporter of the IRTA. Our sponsors, Investor Select, generously provided financial support for the event. Our honorary professional, Stef King, came along to catch up with IRTA members and local B&BTC players, and to watch the play. Bear North organised lunches to fuel the players over the course of the weekend. Stef King and Mark Heffernan provided photos for this page. And of course, the enthusiasm and support of the players and spectators was essential in making the weekend such a success. Many thanks to everybody who played a part.
More trips coming soon
Interest in playing in the event was so strong that we regrettably had to run a waiting list for places, and unfortunately not everybody who wanted to play was able to. The IRTA plans to run a good number of playing trips over the coming months, so for those who didn't get a chance to play in the championships, please get in touch if you are interested in joining one of these trips.