| | |
| --- | --- |
| The Dublin Real Tennis Court | |
The Dublin Real Tennis Court is located a few minutes' walk from St Stephen's Green, in the centre of Dublin. It was built in 1885, was played on until 1939, and was subsequently used by University College Dublin, first as a gymnasium and more recently as a laboratory and offices.
The court is listed in the National Inventory of Architectural Heritage.
Exterior of the Dublin Court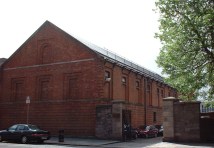 2022: The court is included in a (second) planning application by the Commissioners for Public Works to create a Children's Science Centre. This application is largely a re-submission of the 2016 application, updated (among other differences) to incorporate the condition imposed by An Bord Pleanála in 2016 that "The developer shall submit a detailed proposal to the planning authority for the temporary reinstatement of the penthouse galleries and any other essential features required for playing Real Tennis matches." Indeed, the new application states "The An Bord Pleanála conditions of the 2016 grant of permission relating to the Real Tennis Court have been fully incorporated into this new application", and "The Real Tennis Court building will be refurbished including the restoration of the tennis court (to a playable condition), and to facilitate space for temporary displays and exhibitions."
The IRTA will be making an observation on this application, and will update this page as the planning process unfolds.
2016–2021: A planning application was lodged with Dublin City Council affecting the Real Tennis Court. Permission was granted; the IRTA appealed, and the resulting decision by An Bord Pleanála included a condition requiring the developer to design and build 'essential features required for playing Real Tennis matches'. No work was done under this permission. An application to extend the permission was refused in October 2021, and the permission lapsed.
| | |
| --- | --- |
| Interior, showing glass roof | Penthouse wall |