Fixture vs Prested Hall

7th–8th December 2013
The IRTA returned to Prested Hall, with its two courts, over a weekend in early December, and enjoyed a busy programme of tennis against the locals over Saturday and Sunday.
Last year, the Prested Hall team emerged with more wins than the IRTA, but this year the result was reversed. However, on both occasions some of those representing Prested Hall were also IRTA members, and this year one or two even managed to get a game for both teams….
Many thanks are due to Richard Ramjane for setting up the fixture and encouraging the IRTA to visit Prested Hall, and to Ricardo — soon to be found across the Atlantic at Newport — and Lewis for organising and coordinating an excellent weekend of tennis.
Gallery
Photos courtesy Roland Budd.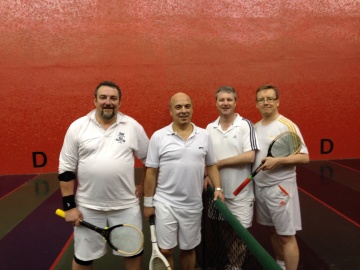 L: Ian Hawkey & Mike D'Anzieri (Prested Hall) vs R: Gary Mills & Vince Lucey (IRTA)
Suresh Kumar (IRTA) vs Jo Bartholomew (Prested Hall) after their match on Sunday morning.
Gary Mills (Prested Hall) vs Derek O'Sullivan (IRTA) before their match on Sunday.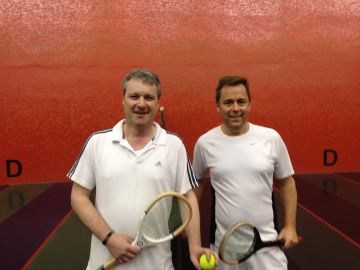 Gary Mills (IRTA this time) vs Peter Weiner (Prested Hall)
Results
Many thanks to Lewis Williams for providing these results.
Saturday 7th December
| IRTA | | | Prested Hall |
| --- | --- | --- | --- |
| H. Lucey | 10 | 5 | J. Mills |
| T. Lucey | 10 | 7 | C. Briggs |
| M. Heffernan | 10 | 6 | R. Maxwell |
| R. Budd | 10 | 4 | S. Levett |
| F. Ramjane | 10 | 7 | M. D'Anzieri |
| Z. Ramjane | 6 | 5 | D. Beales |
| | 6 | 3 | |
| V. Lucey | 5 | 10 | I. Hawkey |
| S. Kumar | 5 | 10 | M. Hawkey |
| G. Mills | 10 | 7 | P. Weiner |
| T. Lucey & H. Lucey | 10 | 5 | J. Mills & C. Mills |
| G. Mills & V. Lucey | 7 | 10 | I. Hawkey & M. D'Anzieri |
| R. Budd & M. Heffernan | 6 | 4 | S. Levett & C. Vigrass |
| | 6 | 3 | |
| T. Lucey & S. Kumar | 5 | 10 | M. Hawkey & C. Mills |
| Total | 9 | 4 | Total |
Sunday 8th December
| IRTA | | | Prested Hall |
| --- | --- | --- | --- |
| S. Kumar | 3 | 10 | J. Bartholomew |
| Y. Kugler | 10 | 2 | C. Turner |
| D. O'Sullivan | 4 | 10 | G. Mills |
| Y. Kugler | 9 | 10 | V. Lucey |
| T. Lucey | 10 | 9 | I. Hawkey |
| H. Lucey | 9 | 10 | T. Hawkey |
| R. Budd | 10 | 6 | C. Turner |
| Total | 3 | 4 | Total |
Overall result