Fixture vs Holyport Real Tennis Club

15th February 2014
While much of the rest of Britain and Ireland was suffering the aftermath of storms and floods, the IRTA enjoyed a calm and pleasant weekend of tennis at Holyport RTC in mid-February. Saturday 15th saw a match between the IRTA and the locals (though some of the locals were also Irish...), and then on Sunday 16th we held a doubles tournament, with pairs (mainly) made up of one Holyport player and one IRTA member. Excellent lunch was provided on Saturday by Jill Newby, and on Sunday by Derek O'Sullivan, and spectators in the course of the weekend included several IRTA supporters, not least our Honorary Professional, Stef King.
Many thanks to Jill Newby, who encouraged the IRTA to return to Holyport (venue for our Championships in 2005 and 2006) and coordinated the event, to the pros Andy Chinneck and Chris Bray for marking on each day, and to all at Holyport — players, pros, and committee, for welcoming us so warmly to their club.
Gallery
Photos courtesy Roland Budd and Chris Bray.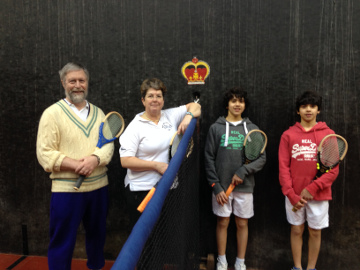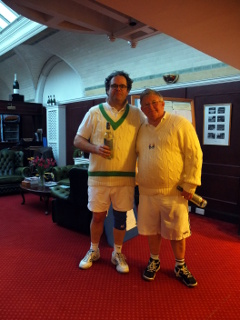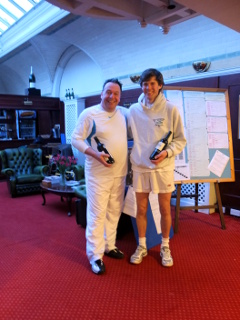 Results
The order of play, and (some of) the results, are below:
Saturday 15th February
IRTA
Holyport
Roland Budd & William Wilks
5
6
Andy Parkinson & Jill Newby
6
4
Roland Budd
2
6
Colm O'Shea
4
6
Derek O'Sullivan & John Previte
6
5
James McDermott & Nigel Kenyon
6
3
Fin Ramjane & Zak Ramjane
6
0
Gill Goddard & Jonathan Horrocks
6
2
Sunday 16th February
Play was organised in two groups:
| Group A | Group B |
| --- | --- |
| Roland Budd & Nick Parkinson | John Previte & Nigel Kenyon |
| Paul Cattermull & Malcolm Thorp | Bob Stacey & Jamie Sears |
| Mark Heffernan & Patrick Jenkins | Claire Stacey & Ben Seifert |
| | Derek O'Sullivan & Keith Smith |
The semi-finals and finals then unfolded as follows:
Budd & Parkinson
Budd & Parkinson
Stacey & Sears
Budd & Parkinson
O'Sullivan & Smith
O'Sullivan & Smith
Heffernan & Jenkins