IRTA visit to Jesmond Dene Tennis Club

5–6 November, 2016
The IRTA took on the Jesmond Dene Real Tennis Club in a fixture on the weekend of 5th/6th November 2016, one decade after our last visit to the court. Four singles and two doubles matches were played on each day.
The Saturday started with a couple of hours of warm-up on court followed by a victory first-up for Roland Budd. Rupert Derham and Rustom Manecksha then squeaked a doubles win to make it 2–0 to the IRTA. Jack Woods lost his singles before drawing with partner Budd in the following doubles match. The last two matches of the day saw Derham win 6–4 in the third set before Manecksha lost his singles in the third set to leave the IRTA 3–2.
A lovely dinner was enjoyed at a nearby restaurant before we watched Ireland's historic Rugby Union test victory on Soldier Field against the All Blacks, using it as inspiration towards Sunday's matches.
Woods was first on Sunday and took a two-set victory in his singles before Derham continued the progress with a two-set victory of his own. They then teamed up to play a doubles match; poised at one set each, the deciding set reached 5–5, 40–40 and a chase was set. Unfortunately they couldn't quite get over the line in this tight encounter. Manecksha drew his singles match before Budd put in a stunning performance to claw back a 4–0 deficit in the second set to win in two sets and secure an overall IRTA win. The drama wasn't over, however, as Manecksha and Budd then paired up for another doubles match that went to the wire. Also in a deciding set that went to 5–5, they had three set points but were unable to convert in a tight contest that neither pair deserved to lose.
During the afternoon we were delighted to be joined by our IRTA chairman Mike Bolton, who had been unable to participate in the full fixture, but was able to join us for a hit and duly managed a full set of doubles and playing some good tennis too!
Our thanks go to the JDRTC who were exceedingly generous in their hospitality, particularly Simon Harris and Fiona and Tony Harrison. We hope to return in the near future.
— Jack Woods
Gallery
Photos courtesy Rustom Manecksha.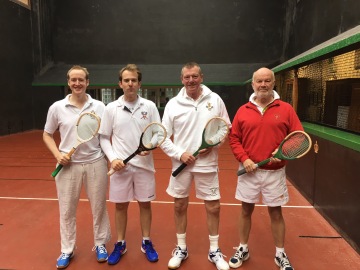 Results
Saturday 5th November
Jesmond Dene
IRTA
Mark Dickinson (33)
4
6
Roland Budd (30)
2
5
Mark Dickinson (33), Tony Harrison (41)
6
2
Rupert Derham (35), Rustom Manecksha (37)
0
6
3
4
Dean Juric (52)
6
4
Jack Woods (52)
6
4
Tony Harrison (41), Fiona Harrison (55)
6
5
Roland Budd (30), Jack Woods (52)
3
4
John Taylor (41)
6
4
Rupert Derham (35)
3
6
4
6
Martin Kellaway (36)
6
0
Rustom Manecksha (37)
5
6
5
4
Sunday 6th November
Jesmond Dene
IRTA
Fiona Harrison (58)
5
6
Jack Woods (52)
4
5
Nick Thompson (40)
2
6
Rupert Derham (35)
3
6
Tony Harrison (41), Paul Raven (46)
6
4
Rupert Derham (35), Jack Woods (52)
2
6
6
5
John Taylor (41)
5
6
Rustom Manecksha (37)
5
1
Darren Spurling (31)
3
6
Roland Budd (30)
5
6
Alan Douglas (37), Simon Johnston (36)
2
6
Roland Budd (30), Rustom Manecksha (37)
6
1
6
5