Brigands Doubles Tournament for Peripatetic Clubs

3rd September 2011
The IRTA returned to Holyport Real Tennis Club on Saturday 3rd September to play in the annual handicap doubles tournament for peripatetic clubs organised by the Brigands Real Tennis Club. The IRTA pair, Roland Budd and Mark Heffernan, won comfortably against the Dedanists in their first match and then, in spite of a slow start (0–4 after only a few minutes…), recovered to edge in front of the Old Rugbeians 8–7 and qualify for a semi-final. That semi-final saw the end of the IRTA campaign, however, as the father and son combination of Marek and Chris Stefanowicz, one of two Brigand pairs in the tournament, proved too strong — and indeed went on to win the final (against the other Brigand pair!) as well. The day concluded with an excellent dinner at the tennis court.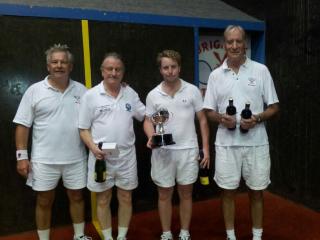 Tournament finalists
(which sadly did not include the IRTA pair!)
Many thanks to the organisers of the tennis and the dinner, to the Brigands, to Holyport RTC, and to Angus Williams for all that marking.
— Roland Budd