Fixture vs MURTC 'Rest of the World' team

13th April 2013
The IRTA enjoyed another excellent visit to the Middlesex University Real Tennis Club, with a fixture between the IRTA and a MURTC 'Rest of the World' team on Saturday 13th April. Each match was played as a single 10-game set. Three of the matches reached a 9-all scoreline, and all were keenly contested, with the honours shared, 3 matches apiece, in the final reckoning. Many thanks to the Heffernan family for organising this excellent event, and especially to Mary, Isabelle, and Clara for the splendid lunch which they laid on for the players and supporters.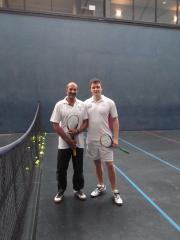 Some of the players on court.
Results
| IRTA | | | MURTC RoW |
| --- | --- | --- | --- |
| Douglas Doherty (rec 15) | 3 | 10 | Neil Sikka (owe 15) |
| Gareth Hinds (rec 15) | 10 | 9 | Regina Dodge (love) |
| Fin Ramjane (rec 15) | 10 | 9 | Julian Ashby (owe 15) |
| Richard Ramjane (love) | 6 | 10 | Henry Kendal (rec half-15) |
| Mark Heffernan (owe half-15) | 9 | 10 | David Ogilvy (rec 15) |
| Roland Budd (level) | 10 | 6 | Simon McLoughlin (level) |
Links