| | |
| --- | --- |
| IRTA play fixture at Moreton Morrell Tennis Court Club | |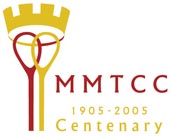 Over the weekend of 15--16 January, a delegation from the IRTA travelled to Moreton Morrell Tennis Club in the UK to play a friendly fixture with a team from Moreton Morrell. Thanks to the hard work of Alastair Robson, Tom Greaves, and the MMTCC pros in organising the event, it was a great success, with very enjoyable tennis, and a wonderful social occasion at the same time.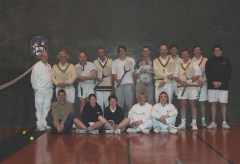 Some of the players and supporters on the court (photo courtesy David Glover, standing at left)
Saturday afternoon saw a practice session for the IRTA team, followed by the fixture itself on Sunday. The result was very close in many of the matches, with more than one being decided by the very final point of the set. The play was organised as handicapped doubles matches, giving everybody plenty of time on court. The final scoreline, with the IRTA taking six matches to Moreton Morrell's two, does not reflect how evenly matched the teams were. Also, many of the IRTA players' handicaps were estimated rather than properly assessed, and the error did seem to be in their favour!
Moreton Morrell provided a delicious lunch in their dining room between the two sessions of play on Sunday, and throughout both days, everybody enjoyed the good company in the bar, overlooking the court through the dedans.
We would like to express our gratitude to the Moreton Morrell members for hosting us, to the pros Tom and Nick, and to the Greaves family who very kindly accommodated many of the IRTA team at their home. The weekend was a tremendous success, and we look forward to returning before too long --- and welcoming Moreton Morrell to the Dublin court one day.
2005 is Moreton Morrell's Centenary year, and they are holding a full programme of celebrations, including both a singles and a doubles tournament, with many of the world's top-ranking players competing. See the Moreton Morrell Tennis Court Club website for more information.